Virtue Signals is out now.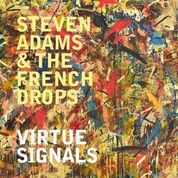 You can get it 
here
,  or wherever you get music.
 /
It was produced by Ben Nicholls,
a fine, bassy bear of a man.
/
It was recorded at Half-Ton Studios in Cambridge
by Neil Rogers,
mixed by Andy Bell and Dave Sanderson
and mastered by Dean Honer;
wizards all.
 /
 /
We played a few shows and we'll play some more.
OLDEr InFORMAtION ////////////!
/
/
/
Here's the video for our song FREE WILL

It was made by HAND HELD CINE CLUB
FREE WILL is taken from our album VIRTUE SIGNALS out on May 4th on HUDSON RECORDS, available to order now.
OLDER INFORMATIONS>>>>>>>>
We have an album coming soon. It's called VIRTUE SIGNALS.
>>>>Here's the first song off of of of it. BAD APPLES.