I'm playing at the Cambridge Folk Club on March 29th with Portland Brothers (that's me and Tim Victor). You can get tickets
here
. We're making an album, meeting up every few weeks and writing and recording and we're looking forward to earning our folk club stripes.
>
I'll be announcing some solo shows in early April soon as well.
>
BYE
>
NEWS FROM 2018 AND BEFORE. OLD NEWS:
>
>
<
Two more 
shows
 from the French Drops this year, in Cambridge and London. Time/logistics/geography prevent us from getting together as much as we'd like, but we're going to try to make another record before next Spring.
/
/
/
Non-Drops news:
I've been working on some songs with my old friend Timothy Victor, and we're about to start playing them at people in public. Our first
show
is in Leytonstone and we're called
Portland Brothers
. Are you kidding? Of course we're excited about it, it's a new thing!
/
/
/
/
Here's some older news:
/
/
Virtue Signals is out now.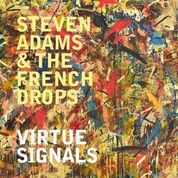 You can get it 
here
,  or wherever you get music.
 /
It was produced by Ben Nicholls,
a fine, bassy bear of a man.
/
It was recorded at Half-Ton Studios in Cambridge
by Neil Rogers,
mixed by Andy Bell and Dave Sanderson
and mastered by Dean Honer;
wizards all.
 /
 /
We played a few shows and we'll play some more.
OLDEr InFORMAtION ////////////!
/
/
/
Here's the video for our song FREE WILL

It was made by HAND HELD CINE CLUB
FREE WILL is taken from our album VIRTUE SIGNALS out on May 4th on HUDSON RECORDS, available to order now.
OLDER INFORMATIONS>>>>>>>>
We have an album coming soon. It's called VIRTUE SIGNALS.
>>>>Here's the first song off of of of it. BAD APPLES.