Virtue Signals is out now.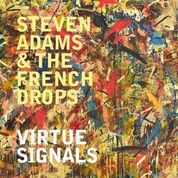 You can get it 
here
,  or wherever you get music.
 /
It was produced by Ben Nicholls,
a fine, bassy bear of a man.
/
It was recorded at  Half-Ton Studios in Cambridge
by Neil Rogers,
mixed by Andy Bell and Dave Sanderson
and mastered by Dean Honer;
wizards all.
 /
 /